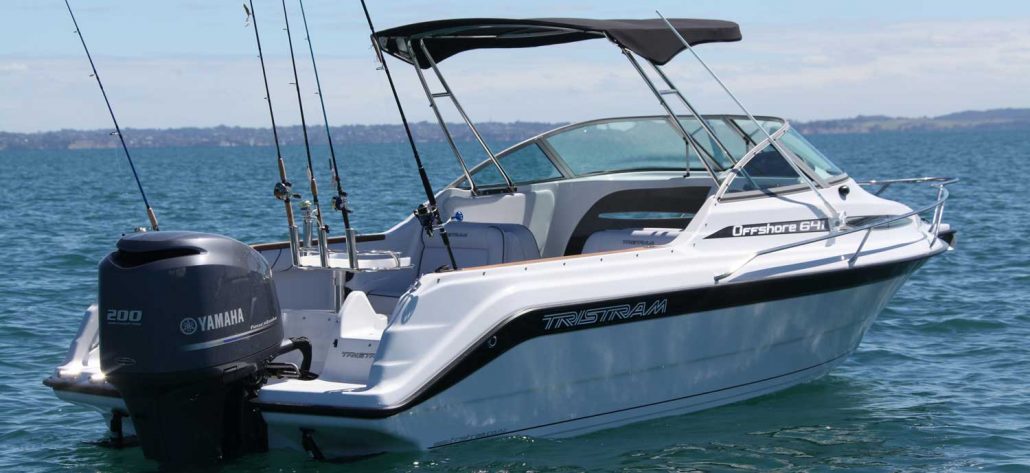 A bone fide sport fisher. Admirably family-friendly, but offers enough fishing features to interest the serious angler. A good looking, all-round recreational fishing boat that offers a level of comfort and finish that should appeal. A standout performer.
– Boating New Zealand Magazine
Dimensions & Capacities
| | |
| --- | --- |
| Overall Length | 6.40m / 21′ |
| Overall Beam | 2.42m / 7'9″ |
| Deadrise | 22 deg |
| Underfloor Fuel* | 150 Litres |
| Horsepower Range** | 150hp – 225hp |
| Overall Length on Trailer*** | 7.35m / 24'1″ |
| Overall Length on Trailer (with folding drawbar)**** | 6.95m / 22'8″ |
| Overall Beam on Trailer | 2.48m / 8'1″ |
| Overall Height on Trailer* | 2.20m / 7'2″ |
| Overall Weight on Trailer* | 1700kg |
*approximate or variable figure
**as rated by CPC
***drawbar to engine in lowered position
****bowrail to engine in lowered position
Standard Features
YAMAHA ENGINE PACKAGE
Yamaha 150hp four stroke 2.7 litre outboard
Hydraulic Steering
Yamaha flush-mounted control box
Yamaha fuel management system
Yamaha multi-function digital LAN gauges x 2
Yamaha stainless steel SDS propeller
ENDURO TRAILER PACKAGE
Kingsway Enduro tandem axle trailer with manual over ride braking system, stainless steel calipers, fresh-water flushing attachment, multi-rollers & reg/WOF
Trailer tie downs
Tristram high-vis propeller bag
DASH & ELECTRONICS
5-spoke stainless steel steering wheel
Battery & box with isolating switch
Bilge pump & fittings (automatic) x 1
Electric trim tabs with auto-retract & LED indicators
High gloss black dash with vinyl top lip
VHF & aerial
HULL & DECK
Alloy fuel tank underfloor with fuel filter (150 L / midship)
Anchor docking fairlead
Deck cleats x 2 & anchor bollard x 1
Fibreglass moulded keel
Full length brass keel strip
Gelcoated hull colour band in black
Large bow rail – stainless steel
Maxset anchor, warp 70m & chain 8.5m
Toughened curved glass windscreen
COCKPIT
Automatic self draining cockpit
Marine carpet from seats forward – recessed & fixed
Recessed teak cockpit coaming
Recessed telescopic boarding ladder & handle
Side pocket shelf & rod &/or ski storage
Ski pole – stainless steel
Stainless steel side coaming rod holders x 4
Storage underfloor
Tallon sockets inc drink holders x 2
LIGHTING
All-round white light (removable)
LED cockpit lights x 2
Port & starboard navigation lights
CABIN
Cabin light
Cabin shelving/backrest upholstered
Cabin squabs with storage beneath
Foredeck access hatch x 1
Marine carpet – recessed & fixed
Port & starboard cabin windows
SEATING CONFIGURATION & UPHOLSTERY
Premium marine grade vinyl upholstery in owner's colour choice
Port side back-to-back seats with storage beneath
Starboard side back-to-back seats with storage beneath
Side coaming bolsters in owner's colour choice
COVERS
Road cover – Sunbrella fabric
Available Extras
ENDURO TRAILER ACCESSORIES
Electric 'Superwinch' on trailer
Spare wheel & bracket
Swinging drawbar
Trailer walkboard
Trailer lock
ELECTRONICS
12V Socket
USB Socket
Capstan – manual
Capstan – self launching rope & chain
Compass
CTEK battery charger fitted
GPS/Sounder
Fusion on-board entertainment with Bluetooth
House battery
FISHING & DIVING
Auxiliary bracket
Auxiliary engine
Auxiliary tie bar
Baitboard – nylon with rod holders (small)
Baitboard – nylon with rod holders (medium)
Baitboard pole
Convert fish bin to live bait tank
Rocket launcher – stainless steel (targa only)
Saltwater deckwash
CANOPY & COVERS
All-over storage cover
Delux canopy top, sock & front clears
Delux canopy backdrop
Delux canopy side clears
Ice-grit stoneguard
Targa top – fully enclosed incl clears & backdrop
CABIN
Cabin curtain
V-Berth infill
Portapotti toilet
COCKPIT & ACCESSORIES
Fire extinguisher
Tallon accessory mount & cup holder (additional)
Review
Classy Sport Fisher
Boating New Zealand Magazine
When Tristram Marine's family-oriented 641 Avant Garde was released in 1998, its performance, superb build quality and structural integrity earned it praise. Now the Tristram 641 Offshore offers those same attributes in a more fishing-oriented package.
The Tristram Avant Garde was not only a great looker but also a top performer.
But she was never a natural choice for those boaties whose primary motivation was sport fishing. To be fair, that's probably true for the whole Tristram boat range, perhaps because they are so beautifully finished it almost feels like an act of vandalism to cover them in fish blood and slime.
That attitude has changed, and in the last few years the team at Tristram Marine have tackled the fishing market head-on with a number of models aimed squarely at fishing boaters. The 641 Offshore is the latest, based on the popular and successful Avant Garde, but with a number of changes to make the boat more fisher-friendly.
Tristram Marine has put a lot of thought into what at first seem to be minor changes to the Avant Garde's layout, but they are in fact substantial. The most radical was to push the helm, dashboard and screen forward some 70mm to enlarge the useable cockpit.
That might not seem like much, but it allows for a new seating layout – back-to-back seats on both sides – a redesigned, more steeply-angled portafino transom and changes to the deck moulds that include a more steeply-raked transition between the cockpit and the half-cabin that extends the length of the coamings, all of which make it a better fishing boat.
The changes to the deck moulds mean the boat looks subtly different to its predecessor, but no less handsome. It's still sleek and sophisticated, and Tristram has steered away from turning it into a hardtop, sticking with a good quality folding Targa top with clears for wet days.
This keeps the price down, windage to a minimum and ensures the new boat retains the Avant Garde's excellent balance and crisp handling. The Targa folds away for easy garaging and can be removed completely if desired.
Family fisher
In keeping with Tristram's family boating philosophy, the 641 Offshore doesn't sacrifice comfort for improved fishability. The twin back-to-back seats are comfortable and covered in good quality upholstery; in the lined forecabin, squabs are upholstered in high-quality fabric, there's provision for a toilet between the squabs, vee-berths are full length and there's sitting headroom inside the cabin. The forward cabin's wide opening is easy to negotiate, and canvas covers are available for privacy and protection from the weather.
Access to the foredeck and ground tackle is through a stayed, tinted polycarbonate forward hatch. It's a standard-sized hatch, so there are no problems fitting through it. A Maxwell RC6 automatic rope-chain capstan, deep anchor locker and stainless bollard are housed under a moulded hatch in the bow and the 4kg anchor is trapped on the bowsprit beneath the stainless steel bowrail. It's a sleek, tidy arrangement with plenty of locker space for a decent length of warp and chain.
The cockpit is clean and uncluttered as befits a sport fishing boat. High padded gunwales offer security, there's excellent toe-room and useful moulded side-pockets. Two horizontal rod racks extending inside the GRP hull liner on each side keep the side-shelves clear for other items. The rod rack system is neat and tidy, though better suited to stowing heavier, more robust tackle than the lightweight soft-bait rods we carried on the day with their fine diameter graphite tips and fragile single-foot guides.
Fortunately, there's additional rod stowage in four through-gunwale stainless steel rod holders and four additional rod holders on the removable stainless steel and PVC bait station. Teak capping on the coamings is a nice touch, adding warmth and class, as does the word 'offshore' embossed onto the side-shelves.
The 641 Offshore's transom treatment is tidy and practical. A pair of bait/ livebait lockers and two transom lockers in the corners complement the curved, full-height locker amidships which houses a battery-box, switches, bilge pump and fuel filters. The moulded door follows the curves of the outboard, intruding only minimally into the cockpit. Any water in the cockpit finds its way to the bilge through neat corner drains and is pumped overboard.
A solidly-made bait board mounts on a stainless steel pole which also serves as a tow point for skis and water toys. The rod holders are useful when baiting up, re-rigging, or for storing rods while in transit.
Rounding out the 'fishing' features is a large underfloor wet locker suitable for storing the catch, dive gear or other equipment, and there's also ample storage under the back-to-back seats, accessed by lifting the hinged rear seats.
We reviewed the boat in 'fishing mode' with optional cockpit carpet removed. The carpet domes-in and is easy to remove when serious fishing is in the offing, for no-fuss wash down afterwards.
Lively performer
The new Tristram 641 Offshore was fitted with the 3.3-litre Yamaha four-stroke, producing 200hp. The 200C provides plenty of grunt for excellent hole shots, great response in the mid-range and a top speed of 43 knots for the 6.4m Tristram on test day.
The boat handles really nicely. A 22-degree deadrise at the transom, a reasonable beam for its length (2.420m) and a fine entry ensures a soft ride, but there's still plenty of lift in the bows thanks to the strake and chine design.
The 641 is a well-proven hull with rough water credentials, so it felt very assured: stiff, solid and extremely smooth. It's also a dry hull which we appreciated because we hadn't fitted the clears to protect us from spray – there wasn't any.
Because the 641 Offshore has back-to-back seats, the helm seat can't be adjusted for height or distance from the wheel. It fitted me pretty well and the compromise position allows comfortable helming whether you're sitting down with your feet planted on the moulded footrest or standing.
Hydraulic steering offers good helm feedback. It never really feels heavy and lightens up nicely when the engine is trimmed correctly. Trim tabs were fitted and we used them to compensate for wind, waves and passengers shifting around the boat.
Despite its deep vee, the boat is stable both underway and at rest. At one point we had four adults lined up along one side of the cockpit with no drama.
It was a lot of fun throwing the 641 around for the photos. It feels supremely confident in the turns and responds instantly to throttle inputs. With the big Yamaha strapped to the back the 641 lopes along lazily (and economically) at 3500rpm, but you are still travelling at a respectable 25 knots. That grunt would be appreciated if the boat were heavily loaded with divers and gear for instance, or in rough conditions where the ability to maintain speed and avoid being sucked into the troughs saves on nerves and fuel.
A 150-litre underfloor fuel tank ensures a useful range and it's good to see the fuel filler outside the boat on the port side, lessening the chances of spilled petrol finding its way inside.
Yamaha digital gauges provide all manner of engine and navigation data, and a 7″ GPS fills the middle part of the moulded dash. I'd guess there's sufficient space to flush-mount a 10-inch display, perhaps larger.
The helm console is well-designed, making good use of the available space. VHF radio and a Fusion stereo head unit are recessed into the cockpit liner low down beside the helm seat, with speakers positioned further aft. Visibility through the windscreen is good and you remain clear of slipstream when seated.
As usual for a Tristram, the boat is well endowed with handholds.
Catches fish too
This is an offshore capable boat with sport fishing ambitions. We couldn't take it too far offshore in the time available, but we did manage to catch a few fish. Big kahawai had us dancing around the cockpit, trying to keep up with their fast runs and leaps, and the odd snapper ate soft baits fished under flocks of feeding birds. There were kingfish too, but none stuck long enough to bring to the boat.
There were three anglers actively casting and retrieving lures to schooling fish from a drifting boat but the cockpit still proved to be plenty large enough (1.4m long) and stability was no problem either. If you were bait fishing you could easily fish three or four across the transom into a berley trail, or more using ledger rigs fished directly under the boat. Non-fishers could sit back in the seats and enjoy the action, or read a book depending on how much fishing appeals to them.
The rig weighs in at 1700kg on its braked trailer and measures (on the trailer) 7.35m in length and 2.2m high, so you'd need a decent-sized garage or shed to store it under cover.
The Enduro trailer includes an ingenious and highly desirable flushing system that allows you to attach a garden hose and flush saltwater residue from inside the trailer's box-section frames. All the cross members are also sealed. Every trailer should have something similar.
BOATING'S VERDICT
The new 641 Offshore is a bona fide sport fisher from Tristram Marine. As reviewed it remains admirably family-friendly, but offers enough fishing features to interest the serious angler. The unmodified hull remains a standout performer, especially with the 200hp Yamaha, and the build quality can't be faulted. It's a good looking, all-round recreational fishing boat that offers a level of comfort and finish that should appeal across gender lines.
Please note – some images may show optional equipment.
Cabin Boats in the Tristram Range