Wishing you a Merry Christmas
&

Enjoyable Holiday on the Water
Merry Christmas from Tristram Marine.
The team here at Tristram have had an exceptional year and are looking forward to a rewarding break this summer after the final new boats of 2017 leave the factory over this week and next with their owners.
We've very much enjoyed this year ourselves. 2017 has brought about a number of positive changes here at Tristram Marine. The team are more energised than ever, the boats keep getting BETTER, and the feedback we've received from owners and Tristram enthusiasts about our business and brand has been phenomenal.
We look forward to moving forward into 2018 with an ever increasing build schedule of families who've signed up to receive their new Tristrams between January & September, but before we roll into our biggest year yet, we'd like to reflect on one of our most successful years so far. Enjoy our personal highlights below.
Have a brilliant Christmas, make the most of the sunshine and stay safe on the water. We look forward to catching up once we are all back on deck from Monday 15th January 2018.
Many thanks
Lance, Bronwyn, Kingsley, Tristram & the Tristram Team
Tristram Marine Open February 2017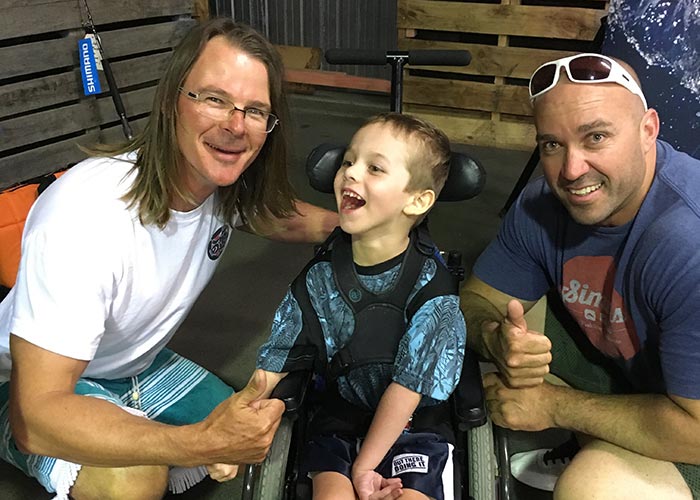 –
2017 Tristram Marine Open at Mercury Bay's Game Fishing Club was yet another success. Despite the very poor weather reports leading up to the 7-day event, the clouds cleared, the rain subsided, and the sea was a brilliant blue.
A HUGE prize pool was awarded by Milan & Nathan from BIG ANGRY FISH to this year's Tournament winners, and everyone had the opportunity to have their photo taken with these lads, including our new friend Cullen above/left! Watch out for Cullen this summer wearing his brand new Tristram Cap.
Dates for the 2018 Tristram Open have now been confirmed, tournament rules have been set, the biggest prize pool TO DATE has been confirmed and we are looking forward to our biggest tournament yet!
Tristram Marine Expo May 2017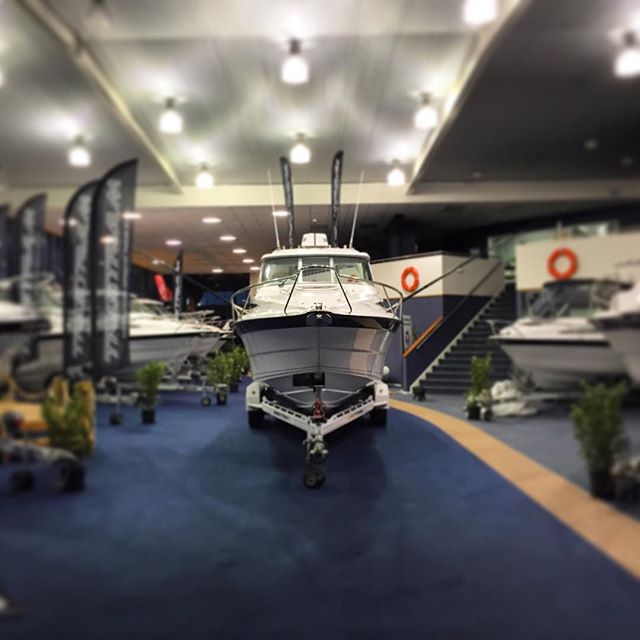 –
For the sixth year running, we held our annual Tristram Marine Expo right here in our showroom & factory during May. We opened up our showroom and factory to the general public, enjoyed meeting a range of new faces and welcomed many more families to the Tristram Team as owners.
Every year our suppliers become increasingly keen to support the Tristram Marine Expo. This year we had the honour of welcoming John Pfeifer, President of Mercury/Brunswick from Wisconsin, and Will Sangster, General Manager at Mercury Marine Australia to our showroom and factory for a tour. They were both impressed with Tristram Marine's operations. John claimed the factory was one of the most impressive he had seen on his world travels, and was astounded with the quality of the Tristram Range.
Dates for the 2018 Tristram Marine Expo will be 17th to 20th May 2018.
We hope to see you here!
Big Angry Fish July – October 2017
–
This year marked the very first season of BIG ANGRY FISH boating in Tristrams! Milan, Nathan and their production team are 'in love' with their 701 Offshore and 600 Inshore boats.
Season 6 was an absolute ripper, with some of the highest viewing numbers ever, and record social media engagements. Tristram Marine's website was hot property between 5pm and 6pm on Sunday's, and our partnership with the show has further reinforced the concept of fibreglass (in particular, Tristrams) are the best fishing boats on the market!
BIG ANGRY FISH Season 6 airs in Australia on 7Mate from 16th December, and Season 7 airs in New Zealand next July.
Auckland On Water Boat Show September 2017

–
The weather at this year's Auckland On Water Boat Show was much better than last (mostly)! We made a number of sales for 2018 delivery at this year's show and welcomed hundreds of owners and Tristram enthusiasts onto the stand for a look around our 14 model range.
Tristram Marine continue to exhibit at the Auckland On Water Boat Show 'exclusively'. We love the Viaduct Venue and believe that September is great timing with summer just around the corner.
Tristram Marine's Summer Closedown Dates
This year the Tristram Team are finishing up on Friday 22nd December. Our Departments will open in January as follows:
Service Department
Opens Monday 8th January
Showroom & Factory
Opens Monday 15th January